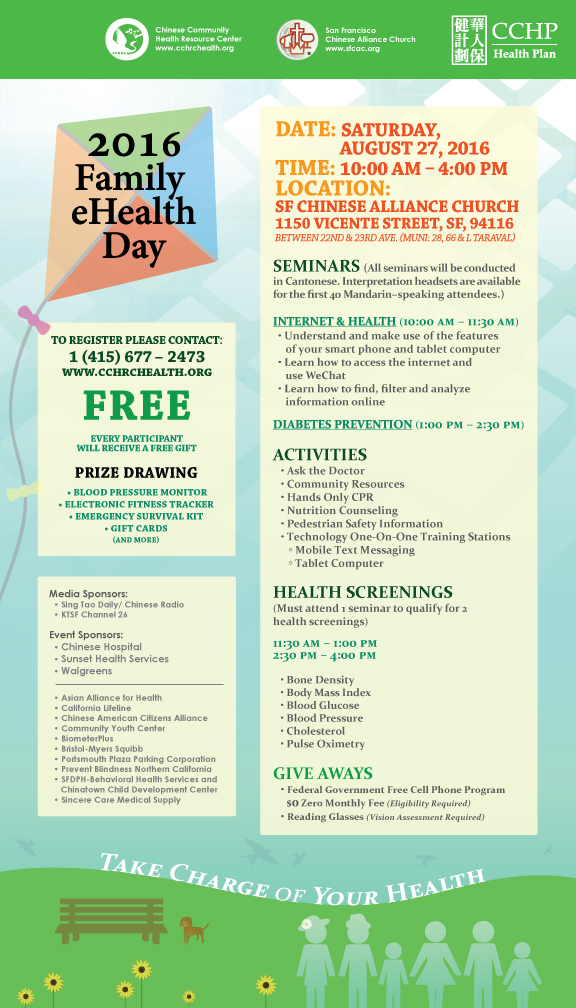 Please click here to see the 2016 eHealth Day details and sponsors.
The eHealth Day was a collaborative project designed for monolingual and bilingual Cantonese and Mandarin-speaking community members residing in San Francisco Bay Area to provide education about preventive health and health information technology trends (eHealth/mHealth & EHR). Educational seminars and one-on-one instruction were provided on various topics including "Introduction to Computer Text Messaging Basics", "Patient Web Portal", "Introduction to Internet Browsing", and "How to Identify Credible Online Health Information/Resources and Internet Security". Free health screenings were also available, including blood glucose, blood pressure, osteoporosis, cholesterol, and hepatitis B
Previous eHealth Day Events
The first eHealth Day took place in 2010 and received an overwhelming response attracting approximately 600 attendees from the San Francisco Bay Area. Please click here to see the 2010 eHealth Day details and sponsors.
In 2013, eHealth Day added additional seminars educating our community members about the concept of accessing their personal health records on-line and utilizing the Patient Web Portal drawing more than 550 participants. Please click here to learn more about 2013 eHealth Day and sponsors.