In 2010, in collaboration with other community-based organizations, CCHRC developed a decision-support tool (a bilingual educational DVD and booklet) that provides factual information about hospice in a culturally and linguistically appropriate way for Chinese speaking individuals at various stages of readiness to use hospice. Before and after filming, CCHRC conducted focus groups of members of the target population to provide feedback on the tool's content, format, and cultural appropriateness. The tool received an Institute of Healthcare Advancement-Health Literacy Award nomination. The 30-minute decision-support tool consists of a bilingual (English and Chinese [Cantonese & Mandarin]), multi-chaptered DVD (video) and booklet.
The video shows a scripted role-play scenario focusing on the hospice care decision-making process using professional actors who were cast to represent the target population based on age, cultural background. Professional voice talents were selected to dub the video in English and Mandarin. The video was produced by a professional film company under CCHRC's guidance. Viewers may choose their preferred audio language as well as select a secondary language/dialect for subtitles. This feature encourages conversation among individuals with different language fluencies. The video consists of three chapters. Viewers can select individual chapters to view without having to watch all chapters in a single sitting as well as return to their desired chapters at any time. To purchase the DVD and booklet, please email us at cchrchealth@gmail.com.
Click here to download the Hospice Booklet!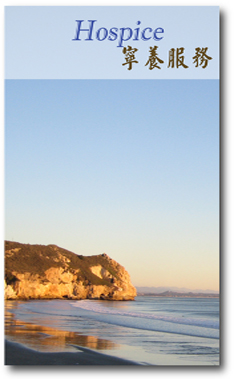 Video
English   Cantonese   Mandarin
Acknowledgements
The California HealthCare Foundation

Chinese Hospital

Chinese Hospital Medical Staff

Chinese Community Health Plan (CCHP)

Chinese Community Health Care Association (CCHCA)

Chinese Community Health Resource Center (CCHRC)
Self-help for the Elderly