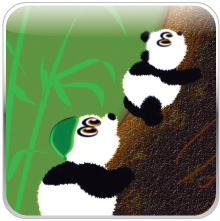 Little Panda likes to have play-dates with Cousin Panda. One evening, Cousin Panda does something bad and warns Little Panda not to tell anyone. Follow the story and find out how Little Panda became the Brave Little Panda! Brave Little Panda is a tool to raise awareness of child sexual abuse prevention; empower children to take action; and promote dialogue amongst children, parents, educators, and providers about this sensitive issue. This mobile application is currently available either as an eBook or animated interactive storybook. On both iTunes store and Google Play Market, the eBook is available in the following languages at $0.99 per language: English, Chinese (Traditional and Simplified), Korean, Tagalog, and Vietnamese. The Animated Version of this Storybook is currently available in English and Traditional Chinese for the iPad and iPhone at $1.99 per language.
Please join us in the fight against child sexual abuse by purchasing and promoting this App. All proceeds (excluding publishing-related fees) from App sales will go towards future educational programs on violence prevention.
Please click here for discussion questions to guide further conversation with kids as well as Comprehension Assessment Questions to build children's reading skills.